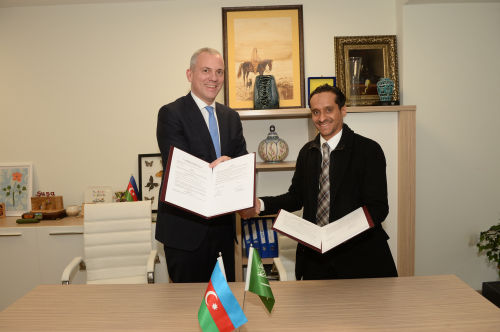 On 20 December, a 'Memorandum of understanding' was signed between Azerbaijan Tourism Board (ATB) and Flynas to enhance the cooperation in the field of tourism between the two countries. The memorandum was signed by Florian Sengstschmid, CEO of ATB and Abdulilah Aleidi, Vice President of International Sales of Flynas.
This partnership is aimed at the collaborative work in order to exchange experience, promote activities that pose a potential for tourism development in both countries, as well as develop projects which will encourage the flow of tourists.
"The increase in the number of Saudi tourists arriving to Azerbaijan has prompted us to create more convenient travel experiences," said Florian Sengstschmid, CEO of Azerbaijan Tourism Board. "According to the statistics, 93,611 tourists from the Kingdom of Saudi Arabia visited Azerbaijan from January to November of this year, showing a 91% recovery in post pandemic era. With myriads of touristic experiences, a possibility to receive visa upon arrival, and of course with direct flights, we aim to welcome many more Saudi tourists to discover Azerbaijan."
In 2018, Flynas were the first to launch the flights from Kingdom of Saudi Arabia to Azerbaijan. In summer 2022, the success of the tourist exchange between the two countries became more noticeable, resulting in 15 weekly flights per week between Baku and Riyadh, Jeddah and Dammam. Currently, there are weekly flights between Baku and Riyahd on Tuesday, Thursdays and Saturdays. Next summer, Flynas is planning to double their flights and bring more Saudi tourists to Azerbaijan.
At the moment, citizens of more than 100 countries can travel to Azerbaijan. To enter the country, citizens of the Kingdom of Saudi Arabia can apply for an e-VISA through evisa.gov.az at least three days before their planned arrival date to Azerbaijan or visa can be issued to them upon their arrival. Saudi tourists can enjoy a whole host of experiences in Azerbaijan, from exhilarating outdoor adventures and calming getaways at wellness resorts, to the immersion into city life and culture. The capital Baku is a modern cosmopolitan city that offers an endless list of entertaining, gastronomic and cultural experiences for travellers of all ages. Trips to the regions with lush nature are a perfect addition to the vigorous days in Baku. Besides, regions of Azerbaijan offer newly established hiking trails and ski resorts with picturesque nature in the Caucasus Mountains.