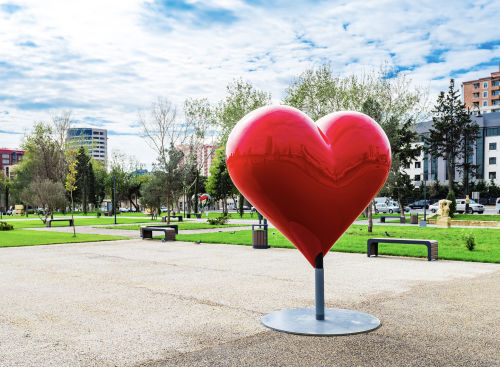 Romantic getaways are a great way to unplug and spend well needed time with your significant other. And what better way to do so than by exploring a new destination? Azerbaijan offers an ideal romantic atmosphere all year-round. Whatever your interests are; for culture lovers or adventure seekers, foodie couples or avid partygoers - there's something for everyone.
A contemporary city crisscrossed with history, Baku's relaxed, Mediterranean atmosphere can be best enjoyed by the Boulevard, the city's waterfront promenade. Enjoy a stroll with your nearest and dearest with sights of the Caspian Sea and the gorgeous skyline. The whole sweep offers hours of pleasant strolling with ever-changing views around the bay.
As a country characterized by love and warmth, the local communities' appreciation for good food, art and music make a memorable recipe for romance. The dynamic and spirited city is rich in architecture and gastronomy. Unconventionally rekindle your romance and indulge in a kaleidoscope of new experiences this Valentine's Day.
Plan your perfect Valentine Getaway at Four Seasons Hotel Baku
Experience a romantic date night at the Kaspia Restaurant Rooftop enjoying wine and a delicious 4-course menu bringing the richness and complexity of chocolate to the taste of each dish. Enjoy the magnificent view of the sea and city paired with the melodic sounds of live traditional music.
Offer is priced at 133 EUR
Valid on February 14 from 8:00 pm
Enjoy a personalized spa experience throughout the month of February in celebration of the month of love. The Jaleh Spa & Health Club is offering its guests and their loved ones the chance to revel in an exclusive 24 karat gold massage.
Package is priced at 133 EUR per couple, including a 60 min couples 24-karat gold massage, 30 min couple facial treatment and complimentary access to swimming pool, jacuzzi, sauna, steam room and selection of local teas.
This package is available on February 14, 2020
Retreat to Chenot Palace for much needed relaxation
Escape on a romantic trip to Chenot Palace Gabala, one of Azerbaijan's most idyllic locations to unwind. Enjoy much needed relaxation with your sweetheart amidst high mountains, canyons, rivers and lakes, hot springs and waterfalls. Offering a number of bespoke programmes, get the best out of the Valentine's Day getaway and return home refreshed and rejuvenated.
Package is priced at 4950 EUR for single-use and 3400 EUR for the second person.
Enjoy an upgraded Junior Suite, upgraded 1-week Advanced Detox Henri Chenot program, 1 Complimentary Lipolytic Advanced Session and round transportation to/ from the airport.
This package is available until April 30
Exclusively for Valentine's Day, enjoy 50% of your room with purchase of 3 days or 1 week at the Henri Chenot Program. Guests can also enjoy a complimentary stay at the Palace with the purchase of the 2-week programme. February 14th must be within period of stay.
Celebrate your love at Shamakhi Palace Hotel
Treat yourself and the one you love to a romantic getaway to Shamakhi Palace Hotel. Enjoy one-on-one time atop the Greater Caucasus Mountains in a charming city, recognized as the centre of winemaking. Experience a romantic date and live jazz performance with 2 complimentary glasses of Prosecco as you soak in the dreamy ambience.
Packages start from 133 EUR.
Included in the Valentine's Day package:
1 night in a Deluxe room and 20% Discount on Massage Services in Nargiz SPA Center.
This package is available on February 14, 2020.
Rendezvous to the Holiday Inn with your special someone
Book a stay at the Holiday Inn in the heart of Baku, near the picturesque seaport and seafront Baku Boulevard. Enjoy breath-taking views over the Caspian or the bustling vibrant capital with your love. Enhance your romantic getaway with a complimentary Valentines dinner at the Marina 18 Restaurant and access to a variety of hotel features and amenities.
Package is priced at 272 EUR and includes standard King Room, access to the Inn Spa with Fully equipped fitness center, daylight indoor pool, sauna and steam bath, spa treatments (chargeable)
This package is available from February 14-16