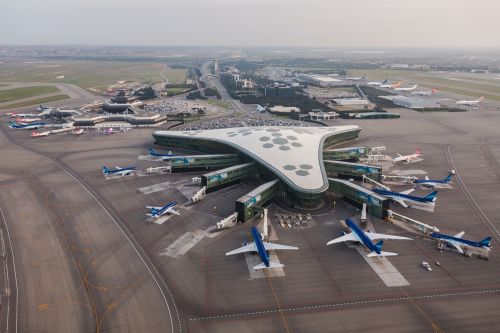 With the vaccination process being carried out successfully in Azerbaijan, international airlines are gradually resuming flights to the country.

As of August, Wizz Air passengers can now fly from Abu Dhabi to the Heydar Aliyev International Airport and back twice a week on Tuesdays and Saturdays, while Lufthansa will operate Frankfurt-Baku-Frankfurt flights on Wednesdays and Saturdays.
In the meantime, two Israeli airlines, Arkia Airlines and Israir Airlines, have also started operating flights to Azerbaijan along the Tel Aviv-Baku-Tel Aviv route. Arkia Airlines is operating flights on Thursdays and Sundays while Israir Airlines is operating along the mentioned route on Mondays and Fridays.
"We are pleased to see air travel to Azerbaijan continue to resume. With a successful vaccination process and improving travel procedures we will help the tourism industry revive globally soon", said Florian Sengstschmid, Chief Executive Officer of the Azerbaijan Tourism Board.
Currently, in addition to the national airlines AZAL and BUTA Airways, 21 international airlines are operating flights to and from Azerbaijan. These include major carriers like Turkish Airlines, Lufthansa, Qatar Airways, Ural Airlines, Aeroflot, S7, Nord Wind, FlyDubai, as well as low-cost airlines such as Pegasus, SkyUp Airlines and the above-mentioned Wizz Air.
The countries from which air travel to Azerbaijan is currently allowed include Russia, Turkey, the United States, Bahrain, the UAE, Great Britain, Israel, Hungary, Qatar, Germany, Austria, Belgium, Czech Republic, Denmark, Ireland, Spain, Sweden, Switzerland, Canada, Luxembourg, Malta, Netherlands, Poland, Portugal, Serbia, Singapore, Slovenia, Slovakia and Greece. To enter the country, citizens and residents of the listed countries need to submit an official document issued by the relevant country (COVID passport) on complete vaccination or recovery from COVID-19 and a negative PCR test taken within 72 hours before the flight. For passengers aged from 1 to 18 years, it is sufficient to submit a negative PCR test taken within 72 hours before the flight.