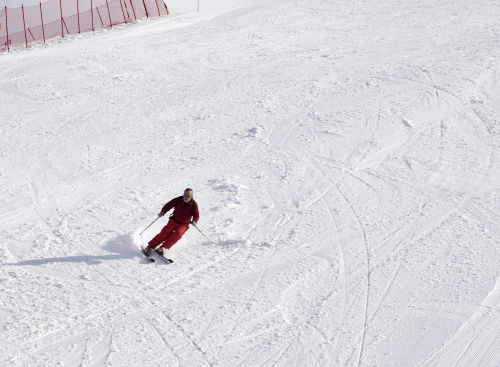 Whether you're looking for a snow-filled ski retreat, some festive indulgence or just family time to explore a new city with your loved ones, Azerbaijan has something special for every type of traveller. With an exceptional combination of relaxation and adventure, Azerbaijan has much to offer and many sites of interests sure to leave a lasting impression.
Azerbaijan's winters are magical, transforming the Caucasus Mountain range into a winter paradise. Ski enthusiasts will find breathtakingly beautiful untouched settings sure to leave any visitor spellbound. Whether you're a beginner or experienced skier, brave the slopes and enjoy the stretches of perfect piste at two outstanding world-class ski resorts – Shahdag Mountain Resort in Gusar or Tufandag Resort in Gabala.
Located at the crossroads of Europe and Asia, Azerbaijan is a winter getaway that marries awe-inspiring landscapes, vibrant winter festivals, and world-class ski resorts.
Here are a few reasons to kickstart your winter vacation planning:
'Tis the Season for Winter Festivals
Winter festivals are one of the best reasons to travel this season. The capital, Baku, is cultural metropolis welcoming guests from far and near to enjoy unforgettable experiences. Baku's Christmas market, "Cold Hands, Warm Hearts" is one not to miss, complete with stalls selling clothes, books, souvenirs and more. From twinkling lights to warm beverages and exquisite food, the city boasts an atmosphere to get even the most cynical in the holiday spirit.
Discover New Altitudes in Tufandag
Tufandag Mountain Resort sits on the shoulders of the Greater Caucasus Mountains in Gabala, an ancient treasure of Azerbaijan boasting incomparable beauty. This beautiful corner of Azerbaijan is rich with natural beauty, with lakes, waterfalls, rivers and mountains. A former capital of Caucasian Albania, the region is packed full of celebrated history and ancient culture. The region is also home to the largest amusement park in Azerbaijan – Gabaland, which covers an area of 16 hectares of entertainment and adventure.
The 15 kilometres of perfectly groomed slopes are great for snowboarding and skiing. Beginners and first-timers have access to the resort's ski school and equipment to join in the fun. Equipped with spas, restaurants, cafes, bars and recreation areas, Tufandag ticks all the boxes of your winter getaway checklist.
Enjoy the Snowy Mountains of Shahdag
Shahdag is located in Gusar, one of the most beautiful regions in the country whose lush forests and mountains offer a plethora of outdoor activities year-round. For those looking to escape the city centre, Shahdag Mountain Resort is the perfect winter escape. The resort's luxury hotels, spas and restaurants, coupled with the untouched snow-capped mountains, make it ideal for both skiers and those looking to unwind by a cosy fireplace.
Non-skiers can opt for numerous other activities such as riding a snowmobile, zip-lining or snow-tubing, off-road tours, flying paraplan, cycling, trottinetting and cable car rides overlooking the magnificent mountains.
Packages
Shahdag Mountain Resort offers a wide range of recreational, entertainment and accommodation opportunities as well as excellent ski slopes at a stunning 1435-2351 metres above sea level.
As a winter holiday special, Shahdag Spa and Hotel are offering a New Year two-night package starting from $650.
Enjoy 2 days of fun on the slopes:

2-day ski passes – $32 for adults | $24 for children
1-hour ski classes – $24 for adults | $30 for children
Quad tours – $24
Snow Grooming Machine Trip – $15
Horseback riding – $4
The package is available from 31 December 2019 to 2 January 2020 – subject to availability.
Indulge in Luxury in Baku
The city of Baku is a beautiful blend of Eastern and Western charm with interesting contrasts evident throughout the city. With its exceptional combination of antiquity and novelty, the city is sure to leave a lasting impression.
Overlooking the Caspian Sea and Baku's UNESCO World Heritage Site, Icherisheher, the beaux-arts style of the Four Seasons strikes beautiful contrasts of ancient and modern, similar to the city. The stunning flower-filled hotel's combination of luxury, comfort, location and timeless style are unmatched. A range of beauty treatments is provided in the top-floor Jaleh spa centre, including a hammam, sauna and massages. Guests can also take a dip in the magnificent Romanesque swimming pool or work out in the fitness centre.
Packages
Four Seasons Hotel Baku welcomes guests to enjoy the best of the festive season. Guests are invited to enjoy the range of wonderful amenities available at the hotel. This includes a Turkish-style hammam or a swim in the indoor pool followed by a "Magical Silk Route" massage at the luxurious Jaleh Spa.
Delight in a Christmas brunch with a bespoke buffet, unlimited alcoholic beverages and live Christmas music on 22 December for only $52 or indulge in the Christmas Eve Dinner with a three-course menu from the hotel's chefs and wonderful Christmas ambiance for just $44.
For only $52, dance the night away at the Disco Party at Bentley's Bar complete with a snack buffet, unlimited beverages and DJ music on 31 December 2019. Then enjoy the very first brunch of 2020 at Four Seasons on New Year's Day for $52
Treat yourself to a three-night stay with 15% off the room rate and 20% off your stay in an extravagant suite. The package is available from 19 November 2019 – 25 March 2020
Discover Shamakhi's Rich Heritage
Perched on the slopes of the Greater Caucasus Mountains is the city of Shamakhi, an ancient city of Azerbaijan. Dating back to the 5th century, the historic city was the capital of the Shirvan Empire and home to the Shirvan Dynasty. Today, the charming city is recognized as a centre of winemaking, carpet weaving and gems such as the breathtaking Juma Mosque, one of the oldest mosques in the Caucasus, Yeddi Gumbaz Mausoleum, and Shamakhi Observatory and more.
Packages
The Shamakhi Palace Sharadil hotel is the ultimate luxury family resort in the heart of Azerbaijan. Offering exclusive suites with panoramic balconies and cottages, the terraces are perfect for big families and groups. The Nargiz spa and wellness centre provides all kinds of treatments for guests with world-class products applied by expert therapists. Adventure-seekers will discover over 32 types of entertainment such as paintball, archery, horse riding, and more.
As a winter holiday special, the hotel is offering packages starting from $65 on weekdays and $78 on weekends for two in deluxe rooms with breakfast included.