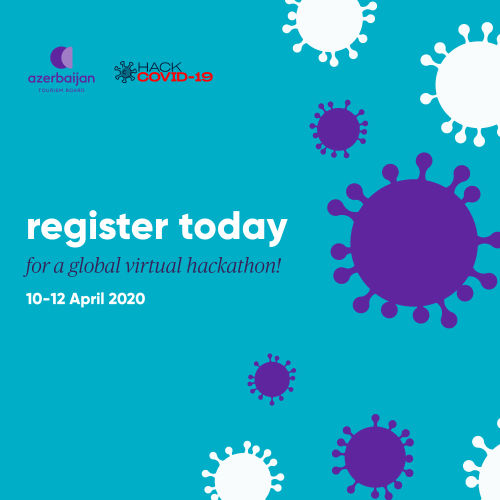 Tech solutions from around the world invited to help destinations cope with coronavirus pandemic
"Hack COVID-19" is a global virtual hackathon scheduled for the 10th-12th April 2020 to crowdsource tech solutions to help people cope with the coronavirus pandemic. As the official sponsor of the hackathon, the Azerbaijan Tourism Board is working closely with partners to find ways to ease the current social and business challenges faced by all, especially those in the travel and tourism industry.
Organised by SUP VC – an intensive accelerator programme that help startups grow and expand to international markets – as well as the Ministry of Transport, Communications and High Technologies of Azerbaijan and the United Nations Development Programme in partnership with the Azerbaijan Tourism Board, Startup Grind Tbilisi, MeOut and Start-Ist, the competition is fully virtual. From the initial call for ideas to the selection and deployment of prototypes and solutions, participants are invited to help be a part of a global solution.
Given the current pandemic, the Azerbaijan Tourism Board understands that the tourism sector is one of the hardest hit by the outbreak and impacts both travel supply and demand. The plan is to understand which technologies could help tourist destinations.
Developers, innovators, companies, NGOs and any active community members are invited to offer tech solutions to ease the current social and business challenges faced by all of us and ensure we emerge stronger on the other side.
Three prizes will be awarded: 5,000 USD for first place, 3,000 USD for second place and 2,000 USD for third place.
Deadline for applications: 9 April 2020
For more information, visit: www.hackcov19.com
Follow #tekkieheroes for regular updates