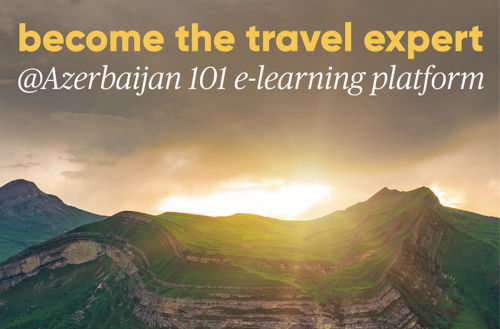 Azerbaijan Tourism Board (ATB) has announced the launch of Azerbaijan 101, an e-learning platform designed to aid the training and development of travel agents and representatives across the global tourism industry.
The collection of online training and engagement tools has been introduced for those seeking to gain in-depth knowledge about Azerbaijan's offerings. Consisting of six modules, the course will cover products across health and wellness, gastronomy, wine tours, cultural heritage and more.
"While we use this downtime to find innovative solutions and explore new paths to revive our industry, we invite industry colleagues from around the world to join in and keep Azerbaijan's flame ablaze. The new e-learning platform will help to raise awareness about Azerbaijan's product base in an engaging and more effective way," said Florian Sengstschmid, CEO of Azerbaijan Tourism Board.
The platform is open for registration on elearning.tourismboard.az. Courses are currently available in English with a Russian option to be added soon. Upon completion, participants will be certified as an 'Azerbaijan Travel Expert' and awarded a digital certificate by the Tourism Board.
ATB has undertaken several initiatives to support the local tourism and hospitality industries, with an aim to continue to deliver a world-class tourism destination in the post-pandemic world. In addition to digital webinars, virtual meet-ups, and virtual tours via salambaku.travel, ATB also launched a nationwide campaign called SAHMAN this week. This programme is set to elevate Azerbaijan's existing health, safety and hygiene standards, with public and private stakeholders encouraged to adopt even better practices in their businesses, in the interest of safeguarding public health and supporting the regrowth of the industry.