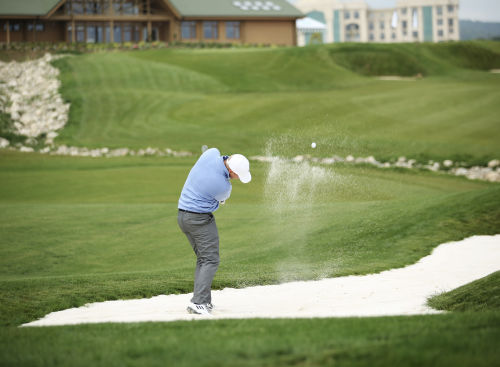 Azerbaijan has cemented its position as an outstanding golf destination as it joins the International Association of Golf Tour Operators (IAGTO). IAGTO ensures that destinations deliver the highest global standards and experiences in golf tourism.
Azerbaijan is home to two 18-hole international level golf clubs. This includes the luxury 170-acre Dreamland Golf Club located 40 minutes away from the city centre of Baku, and the National Golf Club which is set amongst the lush green forests around Guba Palace Hotel.
Designed by famous American architect Cynthia Dye from Dye Designs, the Dreamland Golf Club offers a premium tournament golf experience with refreshing Mediterranean vibes from the nearby Caspian Sea. The course features tapered fairways and well-bunkered greens for experienced golfers, and level landscaping with long-range views for beginners. Dreamland Golf Club also offers a golf academy with IMG Golf School, a state-of-the-art clubhouse, and is officially rated and approved by the European Golf Association (EGA).
Those keen to swing and putt can also head to the National Golf Club in Guba which packs in breath-taking views of the Caucasus mountains. Set in the grounds of the Guba Palace Hotel, the golf club was the first to open in Azerbaijan in 2013 and has hosted a series of international competitions including the PGA European Challenge Tour. The 185-acre course was designed by Jon Hunt from International Golf Design, and features rolling hills and deep bunkers for players across skill levels. The 5-star Guba Palace Hotel also provides fine dining options, a luxurious spa facility, and a fully-fledged business and conference centre - making it the perfect getaway destination for both, business and pleasure.
The diversity of Azerbaijan's offerings gives travellers several reasons to visit throughout the year. High-profile sporting events such as the Formula 1 Azerbaijan Grand Prix and the UEFA Europa League Final in 2019 showcased hospitality offerings ranging from luxury collections to B&Bs and a vibrant gastronomical experience. Azerbaijan also boasts spectacular landscapes including summer countryside and winter ski slopes, hiking trails, and cultural events. Every experience is catered for in Azerbaijan, with golf just the start for travellers.