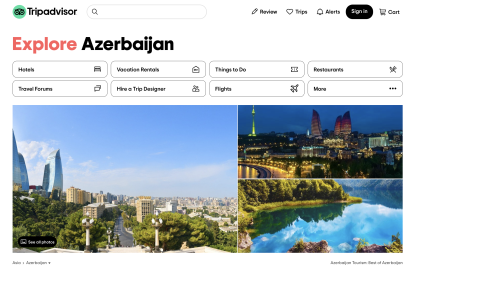 With over 859 million user reviews of 8.6 million accommodations, restaurants, airlines and cruises, Tripadvisor is an essential resource for travelers looking to plan their next adventure. The inclusion of Baku in the list demonstrates the city's growing popularity as a tourist destination. Azerbaijan has been investing heavily in its tourism industry in recent years, with the goal of becoming a leading travel destination in the region.
Visitors to the city can expect to find a rich history, diverse culture, and stunning architecture, as well as a range of activities and attractions to suit all tastes. The city has something for everyone - from exploring the the cobbled streets of the UNESCO-listed Old City to enjoying a vibrant nightlife and tasting delicious local cuisine and wine. The needs of today's travellers are met by the availability of a wide range of modern amenities, such as world-class hotels, restaurants, and shopping centres. Baku is a vibrant cosmopolitan city that has both contemporary and ancient architecture: the city's skyline is dotted with modern skyscrapers alongside astonishing historic buildings.
In addition to its rich cultural and gastronomic experiences, Baku is also a hub for sports and entertainment. The city has hosted numerous international events in recent years, including the European Games in 2015 and the Formula 1 Azerbaijan Grand Prix, with the 7th race taking place this April. Visitors can also enjoy a range of outdoor activities, including hiking, biking, and water sports on the Caspian Sea.