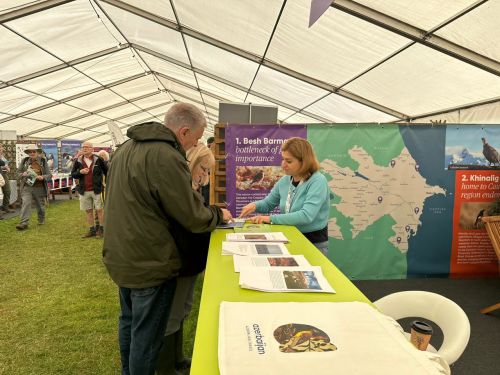 Azerbaijan Showcasing its Birdwatching Offerings at the Global BirdFair
Azerbaijan, a great destination for birdwatching tourism, participated at the Global BirdFair taking place from the 14-16 July in Rutland, UK.
During the BirdFair event, Azerbaijan highlighted its commitment to nature conservation and sustainable tourism practices. Visitors had the opportunity to learn about the country's protected areas, national parks, and conservation efforts that preserve the delicate balance of its ecosystems. Representatives from Azerbaijan Tourism Board were present at the event, showcasing the country's birdwatching hotspots and fostering partnerships with international birding organizations.
"What a great opportunity to participate in BirdFair and share Azerbaijan's unique birdwatching experiences with visitors from around the world," said Florian Sengstschmid, CEO of Azerbaijan Tourism Board. "Azerbaijan's remarkable biodiversity, coupled with our commitment to environmental conservation, makes it an ideal destination for birdwatching tourism and nature enthusiasts."
Azerbaijan's strategic location at the crossroads of migration routes makes it a paradise for birdwatchers. In response to the growing interest in ecotourism, birdwatching has been actively developing in Azerbaijan. Destination has recorded some 400 species of birds, and boasts the advantage of short distances between birdwatching sites. Such convenience allows travellers to visit nearby sightseeings and delve into the lives of locals. This emphasizes the value of understanding the benefits of local resources and how much more the community can gain from proper conservation. The practice of birdwatching further demonstrates the uniqueness of the landscapes and habitats in Azerbaijan. Azerbaijan offers a wealth of great birdwatching sites, each providing incredible adventures. For example, Gizil Aghaj National Park offers a fantastic birdwatching show that takes place year-round. Nakhchivan also offers species not found elsewhere in Azerbaijan, and Beshbarmag sees daily passing of up to 200,000 birds during migration season.
For more information about Azerbaijan's tourism offerings, please visit www.azerbaijan.travel