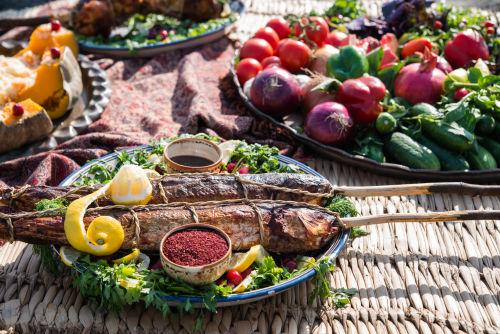 The Azerbaijan National Culinary Team achieved outstanding success at the prestigious "Alen Thong Golden Coffee Pot Challenge" international culinary competitions, held in Sharjah, United Arab Emirates (UAE), from May 29-31. Organized under the banner of "Emirates Salon Culinaire" by the World Association of Chef's Societies (Worldchefs) and the Emirates Culinary Guild, the event showcased the culinary talents of participants from all across the globe. Displaying remarkable expertise and teamwork, the Azerbaijan National Culinary Team secured both silver and bronze medals in individual and team competitions, with support from the State Tourism Agency of the Republic of Azerbaijan.
Representing Azerbaijan, a team of 9 professionals, which included members from the Azerbaijan Culinary Specialists Association (ACSA), associate members of "Worldchefs," and graduates of CASA Culinary Arts Centre of Azerbaijan, showcased their skills and dedication. The team included talented chiefs - Leyla Valiyeva, Jalal Mammadov, Altay Garibov, Rufat Mirzammadli, Elsever Omarov, Kanan Balashov, along with coach Araz Ahmadov, captain Sarkhan Mammadov, and international referee Orkhan Mukhtarov.
In the highly esteemed "Buffet menu" category, the Azerbaijan National Culinary Team impressed the international panel of judges with an exquisite menu featuring salads, seafood, meat products, appetizers, main courses, and bread. As a result, the team secured an outstanding 2nd place among the strongest teams from the Middle East, Southeast Asia, and Africa regions. Notably, this top prize was awarded to only two countries in the competition.
Furthermore, Azerbaijani culinary talents Leyla Valiyeva, Jalal Mammadov, and Kanan Balashov won bronze medals in individual categories, demonstrating their exceptional skills and creativity. Additionally, Orkhan Mukhtarov, who served as an international judge throughout the championship, was honoured with the prestigious "Chaîne des Rôtisseurs" recognition, highlighting his expertise in the culinary field.
Significantly, the State Tourism Agency of the Republic of Azerbaijan took the opportunity to showcase Azerbaijan's gastronomic excellence at the exhibition organized alongside the championship in the UAE. The agency presented a stand highlighting Azerbaijan as a captivating gastronomic destination, showcasing various biodiversity samples.
The achievements of the Azerbaijan National Culinary Team and their exceptional performances not only reflect the country's rich culinary heritage but also emphasize Azerbaijan's commitment to promoting its gastronomic tourism offerings on the global stage.