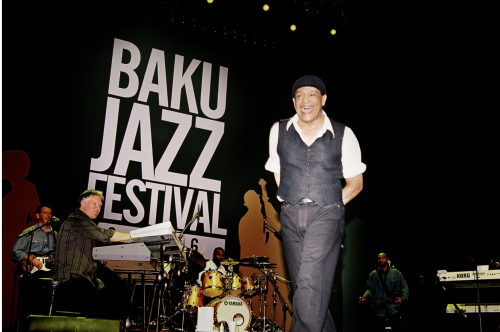 Known for the diverse representation of jazz music, the annual Baku Jazz Festival organized some of the best shows of this year from 23rd to 30th September. The 17th edition of this annual international Jazz Festival hosted some of the top jazz musicians with live performances at the bustling venues of Baku
From the early 80s, Baku became one of the jazz hubs in the region and ever since gathers musicians from all over the world. This year is not an exception and musicians from 14 countries, including Azerbaijan, Türkiye, Italy, France, Luxembourg, Hungary, Switzerland, Norway, Israel, Belgium, Holland, Germany, Brazil and Argentina came together in Baku for the celebration of music
Versatility of jazz music is perfectly emblematized at the Festival in Baku. This week of fascinating music journey allowed guests to enjoy the diversity of jazz music with contemporary jazz, traditional classics, bebop, jazz-rock, electro jazz, bossa nova, cool jazz, ethno jazz and more.
Besides jazz shows, participants had a chance to attend Dancing Jazz Art exhibition at QGallery, Jazz Movie Day at Yarat Contemporary Art Space and presentation of Vinyls & New Series of Jazz Brandy at Jakonda. Festival attendees got the opportunity to rediscover Baku by taking a ride on the City Jazz Tour Bus with live music. Midnight Jam Sessions were a perfect end to the day as they merge the audience into the unique atmosphere, rejuvenating their body and soul. Here participants spent great quality time with friends, enjoying the music and dancing to the tunes of nocturnal Baku
Attending the festival guests were able to discover some of the best and trendy venues across Baku including International Mugham Center, Heydar Aliyev Center, ADA University, Yarat Contemporary Art Space, QGallery, Enerji Club, Port Wine & Grill, Jakonda and Madrid Restobar. A full list of scheduled events can be found at https://www.bakujazzfestival.com/
Azerbaijan conquers the hearts of every visitor with its rich history and culture, scenic landscapes and delicious cuisine. Baku, immersed in the atmosphere of jazz, is even more spectacular. The ancient walls of Old Town and contemporary ambience added by modern architecture, leaves every tourist speechless. As a country with an emerging winemaking industry, Azerbaijan offers everyone to try its exquisite local wines and learn about winemaking at the scenic vineyards. Regions of Azerbaijan with lush and picturesque nature are a perfect option for hiking or simply nature getaways.